Editor's Note: Each week, Colombia Focus will profile another candidate for the 2018 Colombian Presidential Election. This week we profile Paloma Valencia, candidate for the Centro Democrático party. Please visit our 2018 Colombian Presidential Election Headquarters for information about all of the candidates in the election.
Paloma Valencia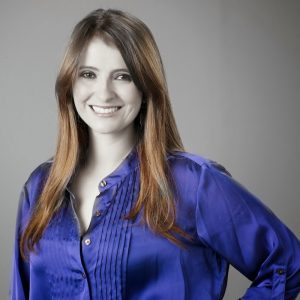 Paloma Valencia
Born: Popayán, Colombia
Status: Declared (Party will select candidate in August)
Party: Centro Democrático
Twitter: @PalomaValenciaL
Paloma Valencia would be Colombia's first female president and the second youngest in the nation's history. But first she needs to win Álvaro Uribe's selection to represent the Centro Democrático party.
At 39 years old, Paloma Valencia is the youngest candidate for Colombia's presidency in 2018 and is considered to be an up and coming politician in Alvaro Uribe's Centro Democrático party. Though she obtained her law degree, Valencia made her way into politics to become a senator and presidential candidate through journalism, writing columns for El Pais and El Espectador among others. She is the granddaughter of Colombia's 21st President, Guillermo León Valencia.
Ms. Valencia brings both a young face and an energetic demeanor to the campaign. Valencia's years of writing and in journalism have made her a fierce debate opponent. But even before she became a journalist, Miss Valencia has been writing. She started blogging while still in her 20's and, though she stopped making entries in 2013, her blog is still on-line. The blog, called "The Clarity", offers an interesting perspective of the young politician and a window into how her policy positions have evolved over the last decade.
Most of Ms. Valencia's current policy positions align with her party and other Centro Democrático candidates, and she has been a frequent critic of the government's agreement with FARC guerrillas. She is also a self-proclaimed "Uribista". The term is used to describe supporters of former Colombian President Álvaro Uribe and his "firm hand, big heart" political approach. She has cast her presidency as a reluctant one, with an infant still home, she stands for president because her party, and Colombia, need her.
However, Ms. Valencia has also made clear that she is not a puppet of Alvaro Uribe. Her beliefs in a decentralized government and as a proponent of more disciplined government spending appeal to conservatives, while her beliefs in government-enforced social policies appeal to some on the left.
Because of her inexperience, it's likely that Uribe will turn to another candidate such as Ivan Duque to represent his party, making Valencia's run short-lived. However her charisma, intelligence and youth would make Valencia a formidable opponent if she represents the Centro Democrático party in the 2018 elections, and she could end up as a vice presidential candidate on the Centro Democrático ticket.
Her Positions
The 2016 Peace Accords with FARC Guerrillas
Ms. Valencia has been a fierce critic of Colombia's peace agreement with the FARC, the key position that will likely define her campaign. She believes that the agreement rewards terrorism and criminal behavior, and has questioned how former FARC terrorists could receive payments, housing and training with so many law-abiding Colombian in poverty.
Este gobierno usa las regalías para vías terciarias para q se apruebe q el resto vaya para las Farc

— Paloma Valencia L (@PalomaValenciaL) July 20, 2017
But the amnesty clauses of the accords have received Valencia's strongest criticism. Through July 15, more than 6,000 FARC guerrillas have been pardoned through the amnesty program and 1,400 convicted career criminals have been released from prison. Valencia has called this a travesty of justice, and unfair to victims of the war.
Valencia believes that the accords signed with the FARC will embolden other criminal groups, including the ELN and Los Uribeños, to continue to commit crimes and attempt to gain their own government windfall.
Corruption in Colombian Politics
Colombians are angry about government corruption, and Ms. Valencia believes that they are right to feel that way. She has said that the government has not only robbed the country's coffers, but neglected the country's infrastructure and security.
Valencia believes that the government has lost the people's confidence, and that this confidence must be earned again through more transparency. She plans to create a more efficient bureaucracy and eliminate government waste, easing the financial burdens on industries. This will, in turn, create jobs and raise the country's standard of living.
Social Policies
Though an Uribista and fiscal conservative, Valencia's social policies are centrist. She is one of only a select few in her party who support full legalization of marijuana, and perhaps other drugs as well. She has prioritized protecting the environment over industry, including the mining sector, another position that places her closer to the center of the political spectrum.
Ms. Valencia is pro-life, but has stated that she agrees with the country's Supreme Court decision to allow for abortion in exception cases involving rape, incest, or when the mother's life is in danger.
She has criticized the state of education in the country, but believes that quality improvement, not expansion, is what the system needs. She believes that the country needs better teachers, and has proposed stricter requirements for professors and a merit based pay system for their salaries.
Economic Plan
Paloma Valencia is a fiscal conservative who has written extensively, both as a journalist and in her blog, about the dangers of socialism, marxism and communism. She believes that the three ideologies exploit the worker, who "exchanges the work that he has produced for the smallest basic salary that can sustain him."
Aside from smaller government, Ms. Valencia believes strongly in free trade and was an early supporter of Colombia's free trade agreement with the United States.
Learn More
The senator was interviewed on W Radio by Vicky Dávila, a one hour program that provides deep insight into Ms. Valencia's personality and upbringing. Note that the video is only available in Spanish language.
https://www.youtube.com/watch?v=YStI2fPn3sw