Este artículo también está disponible en español. Marca aquí para ver la version en español.
Editor's Note: As part of our ongoing coverage of the 2018 Colombian Presidential Election, we have endeavored to maintain a complete list of all candidates, along with their biographies, political platforms, and aspirations for the country. Information on this page was derived from public sources, news articles, and in some cases translated interviews with the candidates. This page will continue to evolve during the 2018 campaign season.
Candidates in the 2018 Colombian Presidential Election
All candidates are listed in alphabetical order so as not to imply any bias on the part of our editorial team. You can click the candidate's name for a more detailed biography and perspective of their respective political positions and platform. While the list mostly contains declared candidates, presumed but undeclared candidates are also included.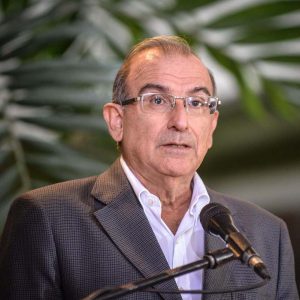 Humberto de la Calle
Born: Manzanares, Colombia
Status: Declared (on March 27, 2017)
Party: Partido Liberal
Twitter: @DeLaCalleHum
At 71 years of age, Humberto de la Calle is the oldest candidate for the Colombian presidency among the candidates, and has been a staple of Colombian politics since 1982. Calle served as the government's chief negotiator with the FARC in Cuba, and after the conclusion of the treaties he was charged by Santos with implementing the agreements.
Mr. Calle is considered a moderate, and a politician capable of obtaining consensus among his colleagues. He has indeed struck bargains with different political parties his entire career. In 1997, he turned against then President Samper, a liberal, after learning of his association with the Cali Cartel, allying himself with conservative Andrés Pastrana.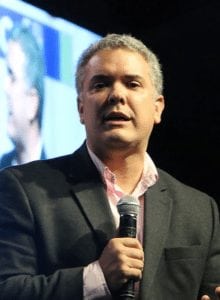 Iván Duque
Born: Bogotá, Colombia
Status: Declared (on March 27, 2017)
Party: Centro Democrático
Twitter: @IvanDuque
A protegé of former president Álvaro Uribe, the 41-year-old congressman Iván Duque has been groomed for a run at the presidency and turnaround what party leaders like Uribe see as a disappointing tenure from former ally Juan Manuel Santos.
Duque has maintained a consistent lead over the polls and is expected, at the very least, to get into the second round of voting if he doesn't win outright the first time around on May 27. Politically, he has stated he'll follow Uribe's principles of being hard against Colombia's guerrilla groups and could undo much of Colombia's peace deal that has given protection and political benefits to the FARC. He has also rallied supporters around promises of being pro-business and increasing security efforts.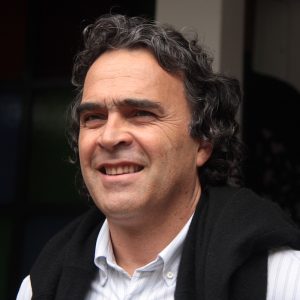 Sergio Fajardo
Born: Medellín, Colombia
Status: Declared (on July 5, 2017)
Party: Independiente
Twitter: @sergio_fajardo
Web Site: http://sergiofajardo.com/
Sergio Fajardo is the former mayor of Colombia's second largest city, Medellín, and former governor of the state of Antioquia. He is running in the 2018 election as an independent, with anti-corruption as his principal platform. Though running as an independent, Mr. Fajardo is considered to be left of center, having dramatically expanded government spending and infrastructure projects during his time both as mayor and governor.
Mr. Fajardo is perhaps most famous for his commitment to public works projects, including Medellín's metrocable system. However he has also come under fire for failed projects, including the Biblioteca España, and an ambitious project to create educative institutions throughout the country. Both projects were left incomplete before his tenure expired.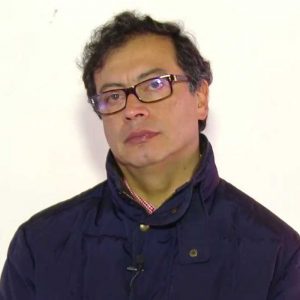 Gustavo Petro
Born: Ciénaga de Oro, Colombia
Status: Declared (on July 14, 2017)
Party: Progresistas
Twitter: @petrogustavo
Web Site: https://gustavopetroblog.com/
Perhaps Colombia's most controversial figure, Gustavo Petro has emerged as a favorite in the 2018 election and is leading recent polling. Petro is a polarizing and devisive candidate, an extreme leftist and former member of the now defunct M-19 terrorist group. The M-19 was responsible for the deaths of scores of civilians during the 80's, including the siege on Colombia's Palace of Justice and an attack on the Embassy of the Dominican Republic. Petro is also an ex-convict, having served 18 months in prison for the illegal possession of arms.
His past not withstanding, Mr. Petro was elected mayor of Bogota in 2012 and is an immensely popular figure among the country's poorer population. Petro has been criticized for mimicking the rhetoric of the late Venezuelan socialist Hugo Chavez, and often plays upon resentment that exists among Colombia's poorer citizens.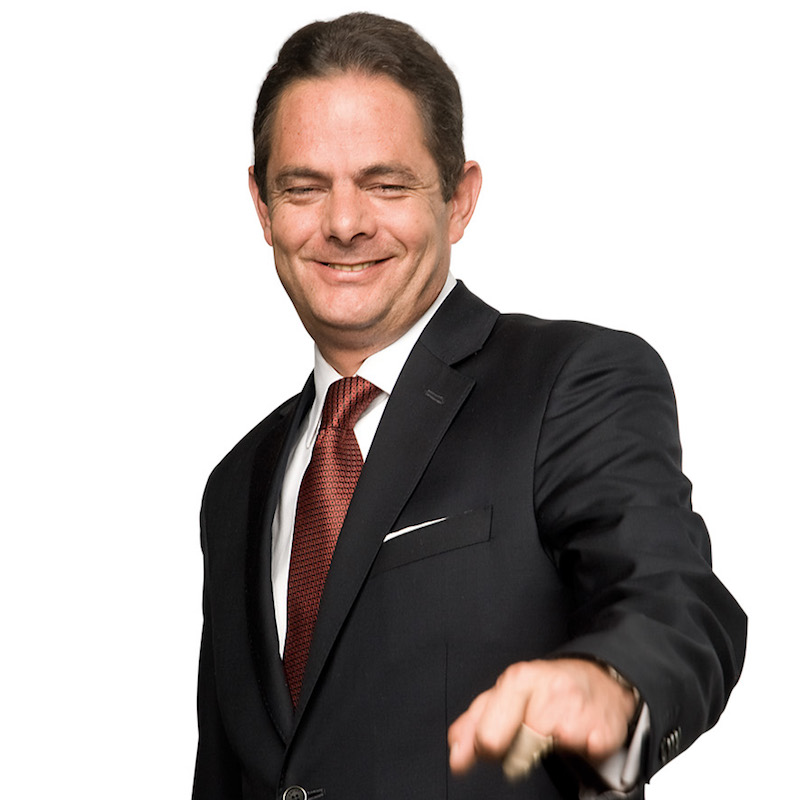 Germán Vargas Lleras
Born: Bogotá, Colombia
Status: Undeclared
Party: Cambio Radical
Twitter: @German_Vargas
Web Site: www.germanvargaslleras.co
Germán Vargas is a veteran politician who served as Vice President to Juan Manuel Santos until March 2017, when he resigned in order to conduct his presidential campaign. Mr. Vargas ran unsuccessfuly for the presidency once before, in 2010. Though it is thought that Mr. Vargas will run as part of the Radical Change party, his hesitancy in announcing his candidacy indicates that he is still considering running under the banner of another party.
In 2002 while a member of the Senate, Vargas was the victim of an ELN bomb attack, with the bomb hidden in a book. He recovered from his injuries and returned to the Senate in 2003.
Mr. Vargas has a very good relationship with Luis Perez, the governor of Antioquia and Colombia's most popular governor, and has reportedly already reached out to gauge his interest in joining the ticket as the Vice Presidential candidate.