Colombian government proposes elimination of last three zeroes from currency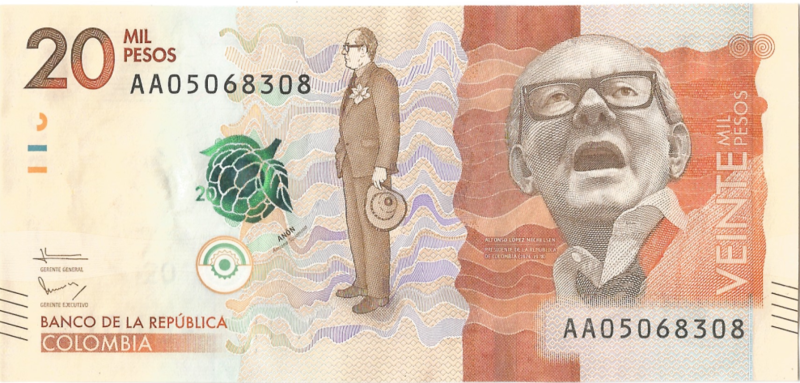 Colombia is set to present a bill that could drastically change its currency by proposing to downsize the peso by a thousand units.
President Juan Manuel Santos said on Monday, via a communiqué from his office, that the Colombian Congress will vote on March 16 whether or not to slash three zeroes off the country's peso. The president told local news station RCN that the proposal has been discussed since 2015 but that the Bank of the Republic put it on hold to wait for inflation to drop to a certain point before proceeding.
"Thanks to the control of inflation and the support of the Bank of the Republic, we are again presenting the idea to take three zeroes off the peso," Santos said in the press release.
Santos said that, if the law is passed in March, that Colombians would start seeing the result of the pecuniary changes within the next six months, referring to it as a "gradual" process.
The new Colombian bills released in 2016 are markedly different from the previous ones, as they had already omitted the triple-zero digits and put in their place "mil," the Spanish word for "thousand." This foresight should help Colombia by not having to print off too much paper money and risking dramatic spikes in its relatively low inflation rate.
"We'll see how long Congress will take to approve it, now that we have taken the proper steps, like having the new banknote be without zeroes," Santos said. "So now that we've been preparing we won't have to print a large number of bills, which saves costs."
Besides making it easier for foreigners to get a grasp on the local currency, there are some practical reasons for the elimination of the zeroes. Government officials say the modification can potentially help combat corruption and money laundering.
Financial analyst Santiago Castro told El Heraldo said that old bills are hoarded by criminal groups and lose value the more they are laundered or kept underground and out of sight of businesses or organizations that are taxed.
"We're not just transitioning to a new peso, but doing it to take power away from dirty money," Castro said.
For some, news of a change in monetary denominations has stoked fears of mirroring the economic crisis in neighboring Venezuela, which removed the zeros from its Bolívar currency in 2008. In another notable case outside of the region, India demonetized its 500 and 1000 rupee banknotes to combat money laundering and rampant forgery. The almost overnight change caused panic among the banks and citizens holding on to large amounts of cash.
Economics department head at the University of Cartagena Derwin Pérez, also quoted in El Heraldo, said a country should only take the steps of changing its currency like this when it absolutely needs to due to numbers bordering hyperinflation.
"Even the most unaware citizens know that this is not the case with Colombia since last year the inflation rate was a 4.09 percent and in 2018 we expect to get lower than 4 percent," Pérez said.