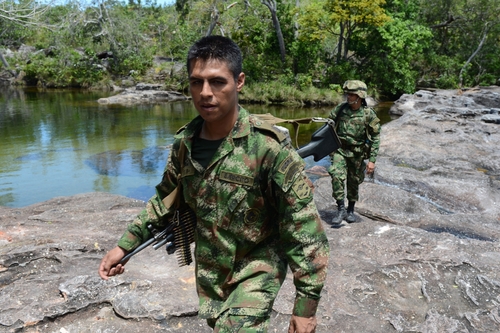 President Iván Duque confirmed Friday that Colombian military forces had killed guerrilla leader Walther Arizala, alias Guacho, in a military operation.
The killing comes three months after Arizala was injured in a fire fight with authorities in Tumaco. The one-time FARC rebel figurehead is believed to be the man who orchestrated the kidnapping and murder of three Ecuadorian press members. Journalist Javier Ortega, 32, photographer Paul Rivas, 45, and 60-year-old driver Efrain Segarra were found dead in the southern jungles of Colombia in April.
"I want to make clear that alias Guacho is no more," Duque said in a press conference in Medellín Friday. "Today, in a heroic operation alongside the military and police forces, with the support of the CTI and the Prosecutor's Office, we can confirm that Guacho fell at the hands of Colombia's heroes."
Duque went on to call Arizala one of "the worst criminals our country has known" and said he spoke with Ecuadorian authorities to pass on the information.
Arizala was killed in Narino, the same region where he was previously wounded in the battle with Colombian authorities.
He led a dissident faction of up to 80 soldiers and is accused of having ties to Mexican drug cartels that are shipping cocaine northward towards the United States.