Álvaro Uribe steps down from senate seat as investigation into witness tampering mounts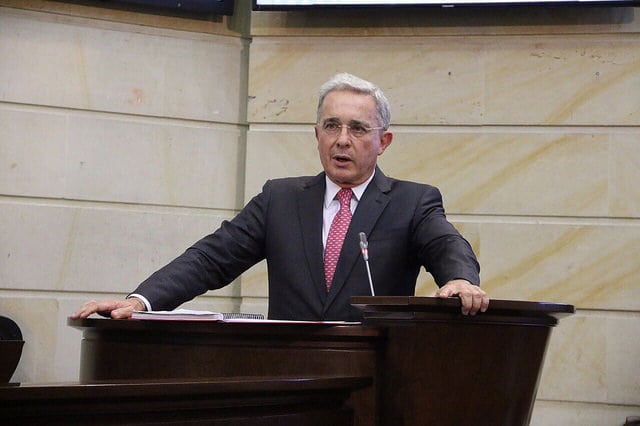 Former Colombian President Álvaro Uribe resigned from the Colombian Congress yesterday in a decision that has sent political shockwaves through the country.
The surprise decision came after the Colombian Supreme Court summoned the leader of the Centro Democrático Party, who will have to appear before the court on charges of "bribery and procedural fraud".
The charges relate to events that happened after February 16, in which claims of witness-tampering have been levied against Uribe in a case involving Senator Ivan Cepeda. Uribe claimed the Court's decision was a result of "political and journalistic pressure" and announced his decision to step aside via Twitter.
La Corte Suprema me llama a indagatoria, no me oyeron previamente, me siento moralmente impedido para ser senador, enviaré mi carta de renuncia para que mi defensa no interfiera con las tareas del Senado

— Álvaro Uribe Vélez (@AlvaroUribeVel) July 24, 2018
"The Supreme Court has summoned me, they did not hear me previously, I feel morally impeded in my duties as senator, I will send my resignation letter so that my defence does not interfere with the duties of the Senate," the former president said.
It is still too early to determine what political consequences Uribe will face as a result of the investigation, though the local media have already dubbed the sequence of events as "historic" and "unprecedented".
El Tiempo, the leading daily in Colombia that endorsed Uribe's protegé and eventual winner Iván Duque, wrote this morning that the Colombian legislature has "lost one of the kings of the political debate."
For his part, President-elect Iván Duque claimed in a statement that Uribe must now be permitted due process and that he remained confident that "his honor and innocence will prevail." Duque is now in the politically awkward situation of losing the party's talismanic leader barely two weeks before he is set to take office and the resignation may serve as an early distraction away from his intended political agenda.
The decision also comes as the JEP, a Tribunal set up under the 2016 Peace Accord to investigate crimes committed during Colombia's conflict with the FARC, opened a new investigation into crimes committed during President Uribe's tenure as president, whereby young men were garbed in FARC uniform, tortured and then killed.
The killings, known as 'false positives', were committed in a bid to boost combatant casualties and resulted in the deaths of at least 2,000 civilians. The investigation is now being headed under the title "Deaths illegitimately presented as casualties in combat by agents of the State."
Although Uribe was not named among the accused, the investigations will look into whether military officials under Uribe's command can be held responsible for the killings.
Despite the multiple allegations against Uribe, the senator handily won reelection in March this year, garnering more votes than any other member of the legislature and he remains a popular figure in Colombia. With his resignation as Senator yesterday, it remains to be seen whether the Supreme Court's decision will have an effect on the former President's popularity.
*An earlier version of this article was published on our sister site The Bogotá Post.