Colombia's Banco de la República, the country's central bank, lowered borrowing costs by 25 basis points last week to 5.5%, as inflation has remained steady and the country's growth stagnant. In a statement on the entity's web site, the central bank cited "the growing weakness in economic activity and the risk of a deceleration beyond that compatible with the deterioration in the dynamics of income caused by the fall in oil prices". The decision to reduce the benchmark interest rate was approved by 6 members of the bank's board, while one member voting against the cut.
The move, while expected, continues a monetary policy aimed at spurring growth while tempering inflation. The central bank has lowered interest rates 2% since the first of the year, from 7.5% to 5.5%. The bank has lowered the forecast for oil prices for the rest of 2017, and cited weak external demand.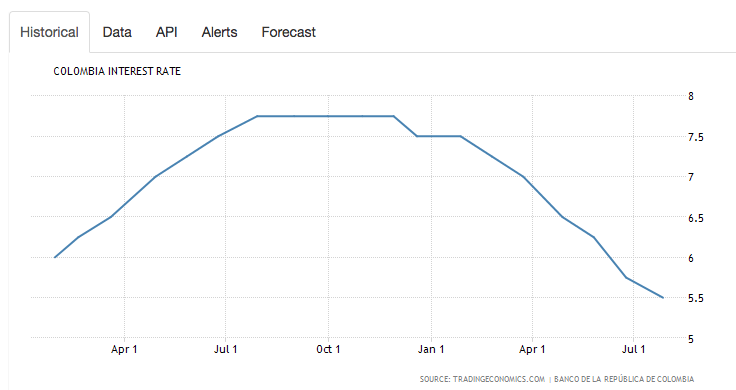 While lower interest rates will create more liquidity in the market and lowers borrowing costs, it risks higher inflation and a decrease in foreign direct investment as lower interest rates make the country less appealing as an investment destination. It is also expected to put even greater downward pressure on the Colombian peso.