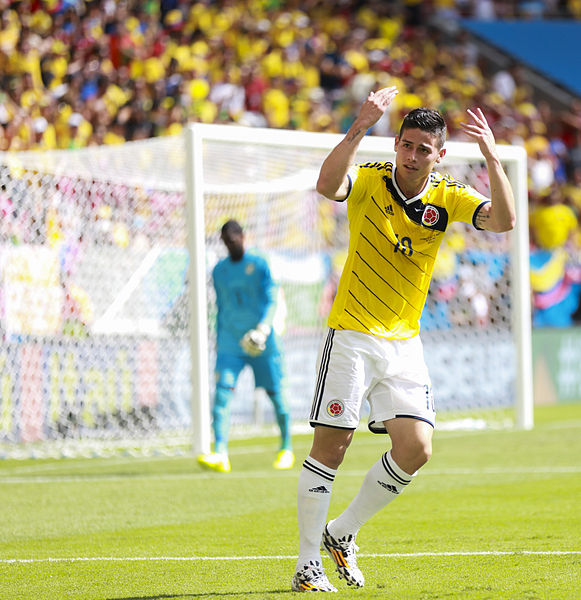 James Rodríguez has no patience for gravity to take its course.
Nowhere was this more evident than in the first half of Colombia's World Cup elimination match against Uruguay in the famed Maracanã Stadium when the ball pinned back and forth across the top of the box. Soon it found James' chest – as if he summoned it there with a magnet – gingerly pinged off him and began falling toward his left foot. With five Uruguayan defenders in their baby-blue shirts surrounding Colombia's No. 10 in an enclosed circle well above the box, Rodríguez did not wait for the ball to hit the grass before winding back his preferred left leg and sending it screaming to the top-left corner of the net.
"Goal of the World Cup!," screamed a jubilant Colombian radio broadcaster, as if there were any doubt.
The 2014 World Cup in Brazil, where James won the Golden Boot with a tournament-high six goals, marked the young Colombian's anointment to the rarified rank of world football stardom. As a team, Colombia's run to the quarterfinals was Los Cafeteros' highest-ever finish in football's most important event.
When he entered the career-defining tournament, the then 22-year-old midfielder was playing at Monaco in France's Ligue 1. His revelatory performance in the World Cup garnered the attention of Real Madrid, who signed the kid from Cúcuta to a deal worth 63 million Euros.
He made an immediate splash for one of the world's best clubs, scoring 13 league goals in his first season with Los Merengues. However, injuries and managerial changes came to define his tenure at Real Madrid as he eventually became phased out of the first-team lineup.
Before the start of the 2017/2018 season, Madrid loaned James out to German power Bayern Munich, where he has steadily begun to find a niche, despite more coaching shakeups since his arrival.
In international play, the midfielder helped lift his nation to qualify for its second-straight World Cup. James scored a 58th-minute goal against Peru in a decisive tie in Lima that secured a 4th-place finish for Colombia in the always tough CONMEBOL, granting the national team automatic qualification for the 2018 World Cup in Russia alongside Latin American counterparts Brazil, Uruguay, Argentina, and Peru.