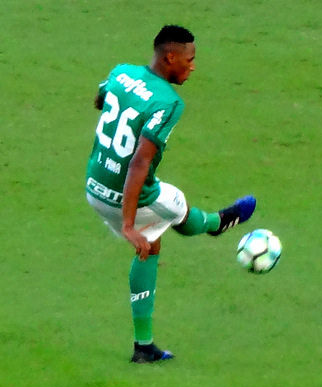 The tallest man on the pitch for Colombia is starting to stick out for reasons other than his height.
Central defender Yerry Mina became the first footballer in Colombian history to play for Barcelona after he signed with the famed Spanish side in January of 2018. A kid from Guachené, Colombia eventually playing alongside the likes of the legendary Lionel Messi is a Hollywood-worthy story itself. But Mina's story is far from being written as the young defenseman (born September 23, 1994) still has plenty of time to decide his fate.
Because of his taller stature, Mina started between the sticks as a goalkeeper when he was a kid. However, his father, who also played professionally, advised his son to move forward as a defenseman
After a successful stint at Santa Fé in Colombia where he helped the club win a league title, Mina was transferred to Palmeiras in Brazil in 2016. He soon became a regular starter and again was part of a championship side as Palmeiras won its first Brazilian league title in more than two decades.
In scouting terms, the first thing that stands out about Mina is obviously his size and his ability to bully attacking forwards and eat space on the defensive side. This also makes him a threat on headers every match as he's become adept at reading set pieces. Though that height can leave him off-balanced at times, he is quicker than opposing teams give him credit for. Mina is still finding his form as he carves out his niche for Colombia when looking towards the 2018 World Cup in Russia.
Mina has also become well-known for his dancing, or "twerking," celebrations that have captivated fans for both club and country. He had reason to show off his moves in a 2017 friendly against Cameroon when he put home two goals. He also scored against Uruguay in World Cup qualification, helping Los Cafeteros reach their second straight World Cup.